Win a ride in a Lamborghini – support our COVID project!
Update: the Raffle has ended; thank you to all those who donated!
In support of the Operation Strong COVID-19 Relief Project, the Pasadena Jaycees have teamed up with the US Racetronics Lamborghini Super Trofeo team and their development driver, Jonathan Eshom, to raffle off this once in a lifetime opportunity to experience the thrill of riding in a Lamborghini race car!
The Raffle
Have you ever wanted to know what it feels like to be a racecar driver? Now is your chance! For only $10, enter for a chance to be one of three (3) winners to go for a ride in a Lamborghini Huracan Super Trofeo EVO race car driven by a professional racecar driver! To add to this unique experience, YOUR NAME will be placed on the side of the car as if you were the driver (see picture below)! Each winner will get the thrill of experiencing up to five (5) flying laps at speed!

All proceeds will go to the Pasadena Jaycees' Operation Strong COVID-19 Relief Project, which helps under-served communities and Black communities. In order to increase your chances of winning, you can buy as many entries as you want!
The Car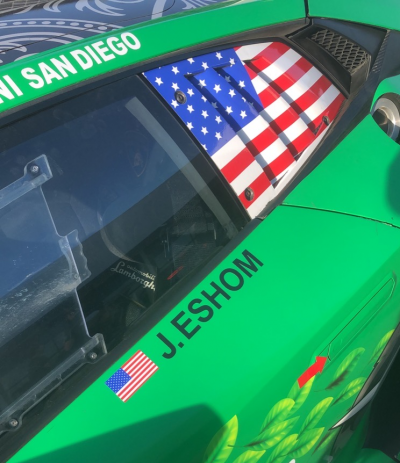 The car Lamborghini Huracan 620-2 Super Trofeo EVO race car utilizes a 5.2 liter V10 engine which outputs 620 horsepower at 8250rpm. With a top speed of nearly 200mph, winners will definitely experience the thrill of a lifetime! Unlike your daily road car, this Lamborghini utilizes specially designed aerodynamics and braking capabilities that allow for a thrilling ride that is more exciting than any rollercoaster!
Details
In order to secure your spot in the raffle sweepstakes, all applicants must complete the following Google form, and submit your donation of $10 per entry to the Pasadena Jaycees. Fill out the form here: https://forms.gle/mHBd6g6r18nGcjY36, and submit payment via:
– Venmo: @Jaycee-Treasurer or
– Paypal: [email protected] (friends & family option)

Please use the term "Lamborghini Ride" for your payment subject line.
The deadline to enter is Friday, August 14, 2020. Winners will be announced Monday, August 17 on Instagram at @eshom.racing and @pasadenajaycees. Once announced, winners will be contacted by Jonathan Eshom with details of when and where the event will occur – will be located in the Los Angeles area.
**In light of COVID-19, this event will take place when it is deemed safe to do so, but is expected to take place within a year, location TBD in the Los Angeles area.**
*If you'd like to Sponsor this event, please contact the Pasadena Jaycees at [email protected] for pricing!*
Terms and Conditions
All entrants must be at least 18 years or older.
Jonathan Eshom, US Racetronics, and the Pasadena Jaycees are not responsible for:

Transportation to and from the race track
Track fees for guests other than winners
Overnight hotel expenses should they arise